Voted #1 For Best Entertainment Venue, Best Local Winery Best of the Best 2020, 2021, 2022!
Cornhole League Tournament (6 Weeks)
Saturday, November 4 2023 12:00 PM - 5:00 PM

14223 Route 111, Chesterfield IL 62630
Calling All Baggers! Join the Fun at Wild Pickins Winery!
Are you a cornhole enthusiast, looking for some competitive action and a chance to win some cash? Look no further! Wild Pickins Winery invites you to participate in our exciting 6-week Bag League. It's time to toss those bags and show off your skills!
League Details:
Location: Wild Pickins Winery
Address: 14223 Route 111, Chesterfield Illinois 62630
Duration: 6 Week Cornhole League
Prizes: Prize money up for grabs every week if we have over 20 participants. Additional cash prizes will be awarded at the end of the final tournament.
Qualification: To compete in the final tournament, you must participate in at least 3 of the 6 weeks.
Date: Our first tournament kicks off on November 4th.
Sponsor: This event is sponsored by "Wanna B Baggers."
Sign-Up: Registration begins at 12 noon.
Entry Fee: $10
Tournament Start: First bags will be thrown at 1 pm.
Menu: Enjoy our full regular menu available from 12 pm to 8 pm.
Bar: The bar opens at noon, so you can enjoy your favorite beverages while you play.
Tournament Format:
Blind Draw

Each week will feature a 4-round -round robin for points. Keep coming back each week to accumulate points for a chance to win big at the final tournament!

Mark your calendars and gather your fellow baggers. Wild Pickins Winery's 6-week Cornhole League is your chance to enjoy some spirited competition, delicious food, and great company. Don't miss out on the fun and the chance to win big!

See you at Wild Pickins Winery on November 4th for a fantastic day of cornhole action and fun!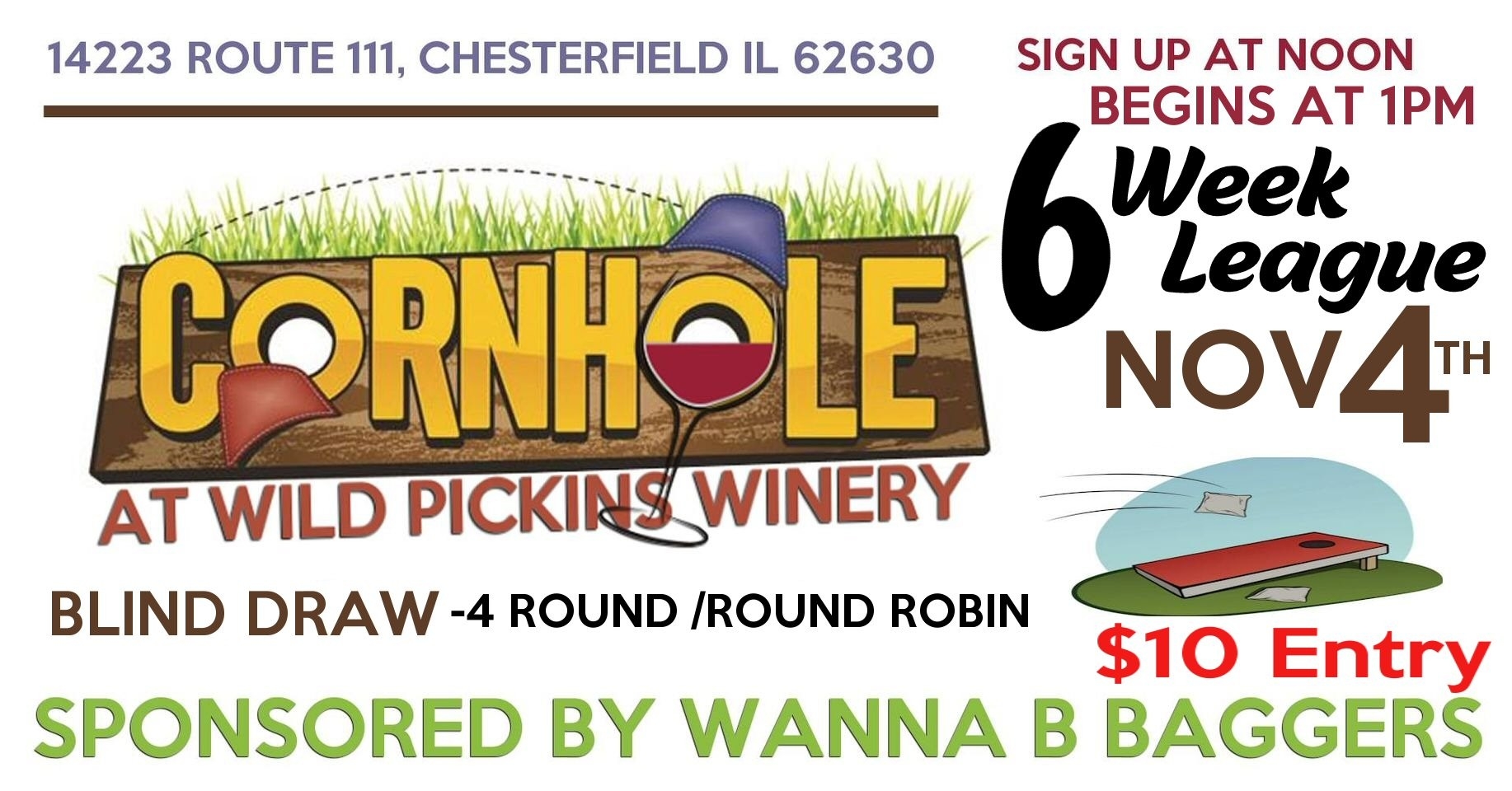 For more information:

Todd McGill

6187533833